Use Case
French Land Forces decentralize Additive manufacturing in the field with the 1st Blockchain in overseas operations.
With MainChain, the Land Force operate its transformation maintenance in operational condition of the terrestrial equipment and decentralize the spare parts manufacturing in overseas operations while preserving data intergrity.
Objectifs
Adapt economic model for new additive manufacturing production process.
Control intellectual property.
Ensure traded data integrity.
Improve maintenance in operational condition of terrestrial equipment by spare parts manufacturing during overseas operations.
Résultats
New economic model for spare parts manufacturing during overseas operations.
Intellectual property monetisation for DTIB companies.
Improve digital assets security and tracability between diverging economical interests actors.
Reduction of carbon footprint and supply chain vulnerabilities.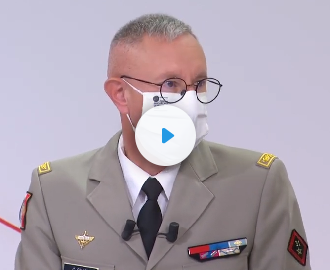 Transformation of digital uses in military operational field with FIBR²EO project.
By bringing the Terrestrial MCO closer to the military in operations, blockchain and additive manufacturing allow the French Army Forces to reduce the carbon footprint by decreasing the supply chain flow and therefore be less vulnerable.
From a centralized production to a decentralized production
In operating environments where military equipments are highly exposed, the improvement of the maintenance process and material availability is a major issue. The choice of new technologies to bring together Terrestrial MOC and the land forces in operations offers very interesting operational perspectives for the armies.
One of the benefit of additive manufacturing is decentralized production, namely nearby production of the place where the piece will be used. In this context, the industrial don't control its intellectual property anymore since it gives a digital plan to its military customer. Therefore he is no longer able to check that units in overseas operations printed the amount of pieces figuring on the purchase order nor they respected the manufacturing processes and methods. This breakthrough innovation raises the question of trust between diverging interests stakeholders, of economic model adaptation for this new production process and traded data intergrity.
From open innovation to operational use in overseas operations
The FIBR²EO project (additive manufacturing integrating blockchain for spare parts production during overseas operations) studies potential input of a private blockchain to secure additive manufacturing on theaters of operation.
As part of the Barkhane operation, Vistory initiated an innovating approach with the deployment of MainChain for :
Protecting manufacturing data integrity (digital plan, operating license, process and method)
Secure handling of intellectual property rights and economic models respect established between the Land army and its industrials.
Information traceability
Our technology is positioned as a trusted third party for information trade between the Land army and the defense industrials, from the digital plan emission to its printing in the field.
FIBR²EO, an experimentation up to the stakes.
With the FIBR²EO project, MainChain enables to secure exchanges and to establish a trust relation between different actors with diverging economic interests : armed forces (BSMAT from Tull and SIMMT), defense industrials (ARQUUS and Nexter), deployed troops during exterior operation et 3D printer manufacturer (Prodways).
Thanks to the blockchain, MainChain open the way to a new economic model. The defense ecosystem has the opportunity to manufacture spare parts on demand directly on demand directly on overseas operation theaters and enables to the DTIB industrials to monetize their intellectual property. We resolve the potential of decentralized production for the Land army.
Deployed troops are now able to manufacture spare parts responsively, while being sure of the blueprints conformity and manufacture process, while having a follow-up of the production.
The industrial has the guarantee that its intellectual property is paid during the printing of the piece under its conception.
Un cas d'usage interarmées
Armée de terre
La SIMMT opère la transformation des usages numériques dans le domaine opérationnel militaire et décentralise la fabrication de pièces rechange en OPEX tout en préservant l'intégrité des données.
Marine Nationale
Le SSF améliore sa performance opérationnelle grâce aux nouveaux moyens de production industriels déployés à bord du porte-avion Charles de Gaulle et concentre ses efforts sur l'intégrité des procédés de fabrication, nécessaire à la répétabilité.
Prêt à vous lancer ?
Découvrez comment MainChain peut vous permettre de profiter de tous les avantages de la production décentralisée avec sécurité.